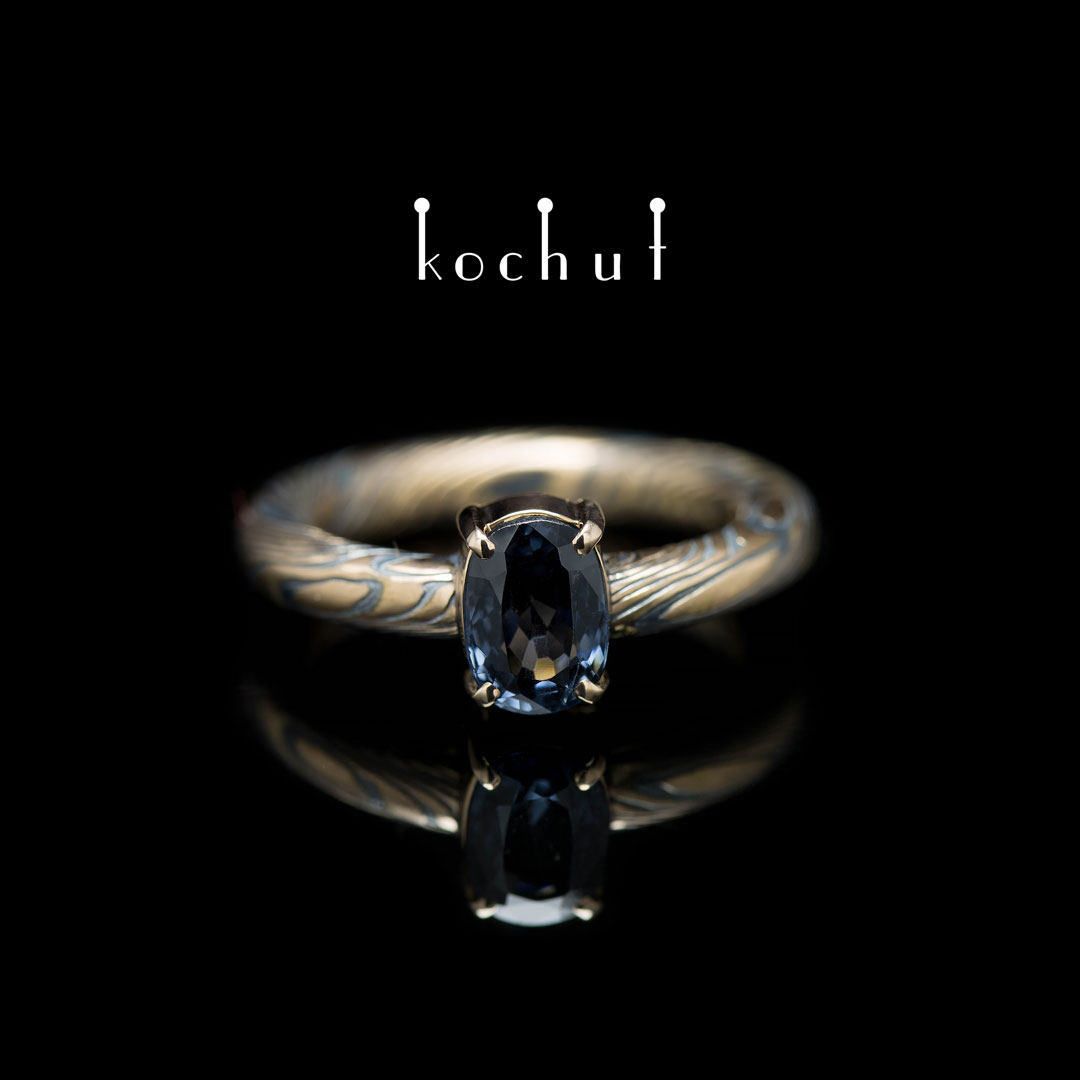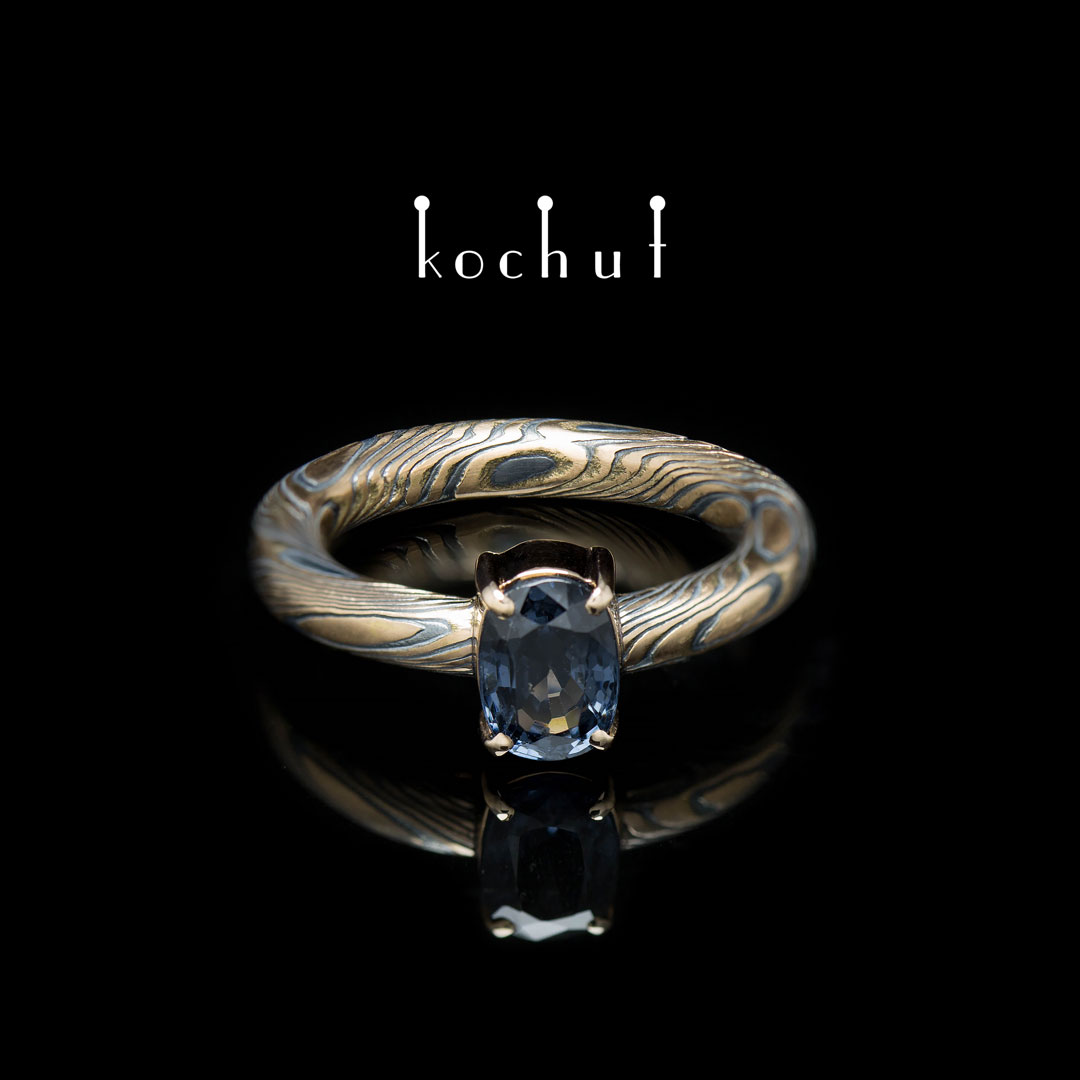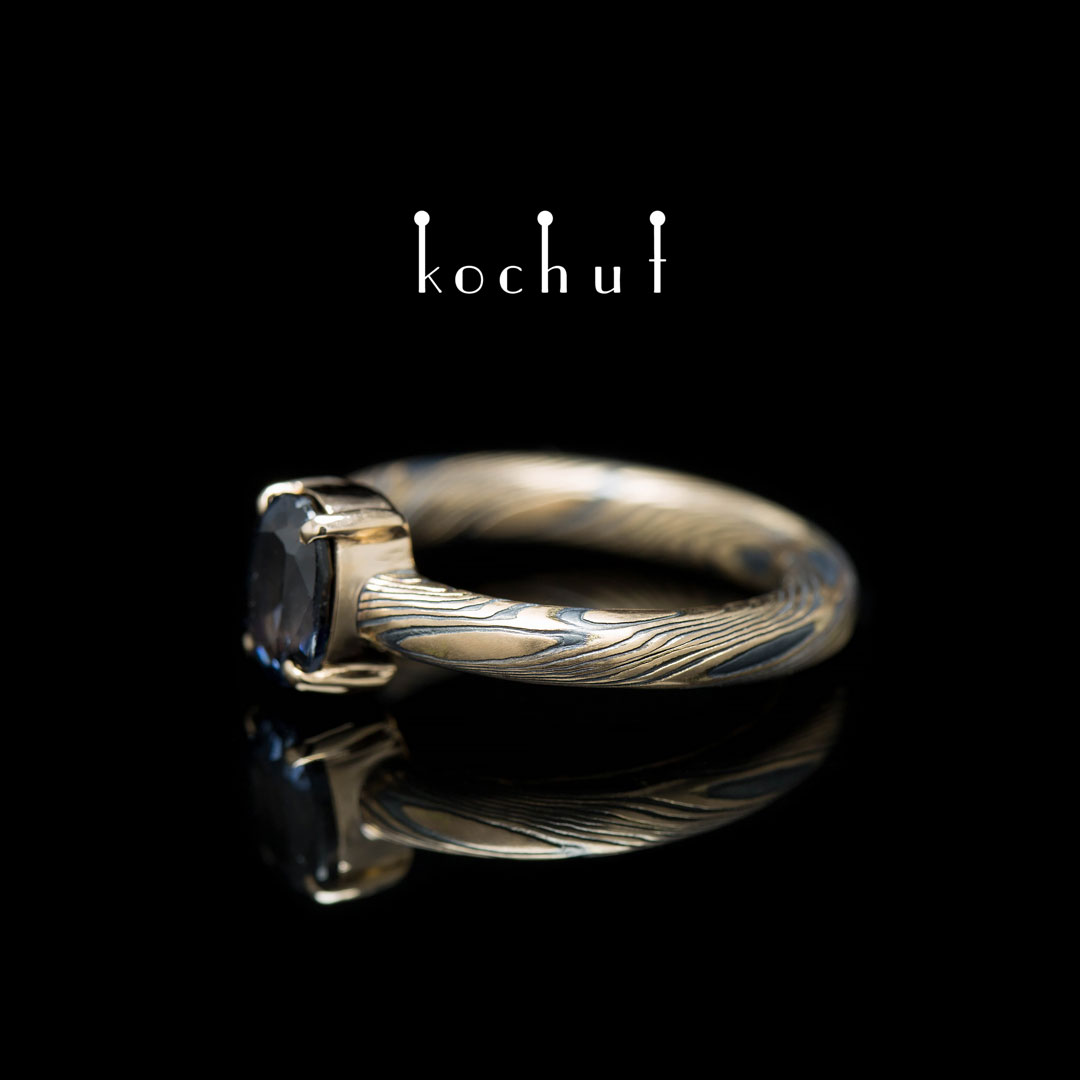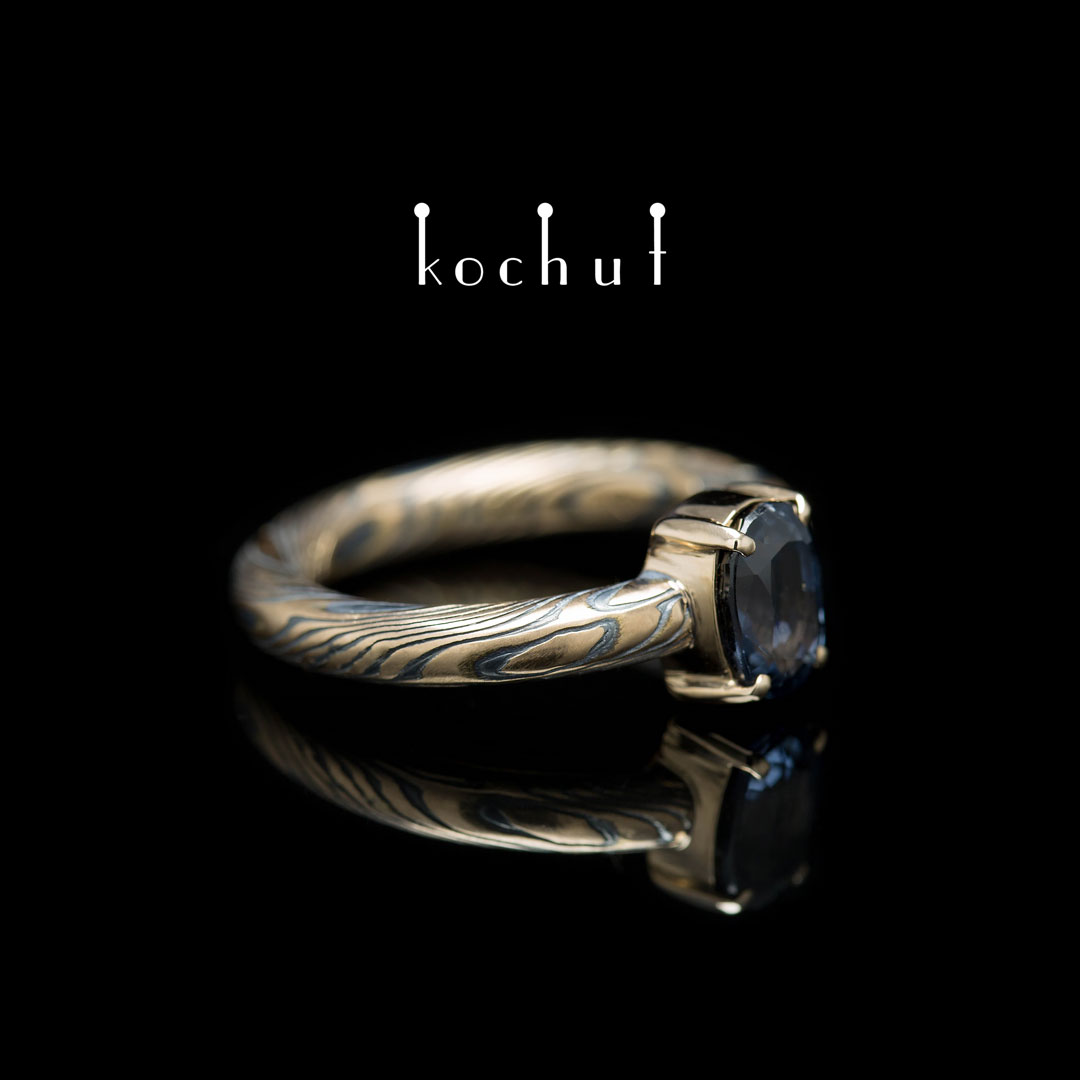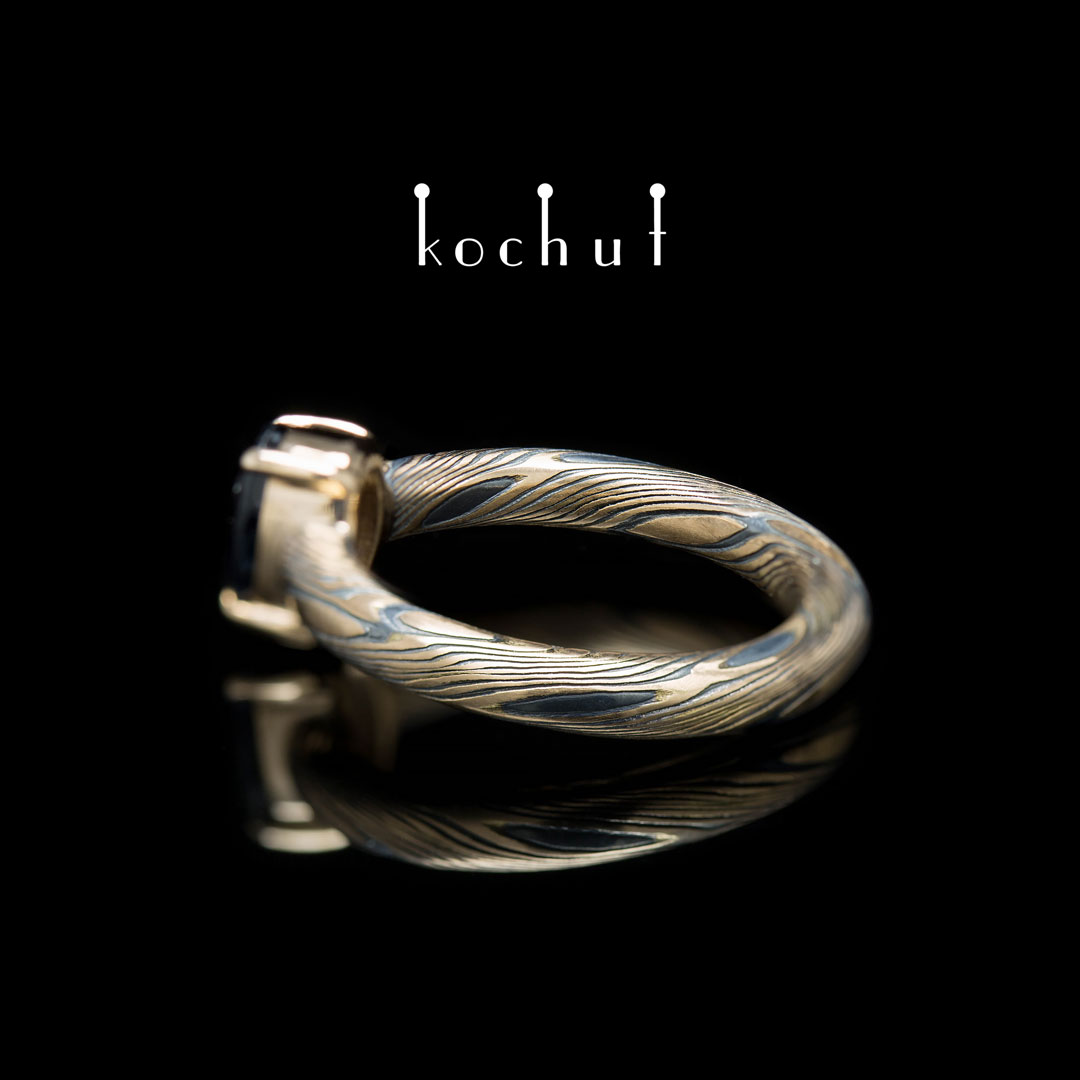 Ring mokume «Haiku». Red gold, etched silver, blue spinel
Characteristics
Metal: Red 14K gold, sterling silver
Insert: Blue spinel
Plating: Oxidation
Description
We would like to admit that we very often feel as if we are actually writing poetry when we are creating jewellery.
Instead of words, rhymes and metaphors, we use tools, precious metals and stones. However, what we seek to convey with their help are real lines of poetry that touch our hearts, stanzas which we are inspired to share with the world.
Elegy, sonnet, ruba'i, poem, madrigal, ode, gazelle, ballad, free verse...without missing a single syllable, we do our best to instil the wonder of the written word into each piece with the help of jewels, gold and silver. Thus, two alchemical processes are constantly in motion at our workshop. The first is the materialization of poetry in our pieces.
As far as the mokume gane technique goes, we naturally regard it as a unique reflection of haiku, or Japanese lyrical poetry.
Both in the haiku and in the mokume, precious multi-layered interpretations and depth of images are hidden behind the apparent conciseness and simplicity of the form.
The concepts and themes that are typically attributed to haiku are large-scale canvases, broad cross-sections of reality. At the same time, they subtly convey an elusive moment, an intimate experience, a unique moment — the 'now'.
One hundred landscapes
in an instant. In the heat.
Drawing the high clouds
(Matsuo Basho)
Our mokume rings evoke similar feelings. Haiku. You can certainly catch on to their special rhythm, melody and poetry by listening to even just a few. By looking on at the alternating 'rows' of gold and silver, you will feel the nuances in meaning of each hidden layer of metal, each image embedded in them. Their manifestation and form are elegantly simple and immensely complex (philosophically, artistically and technically) all at once.
Inimitable, like every moment of life. Our mokume Haiku rings are poetry embodied in precious metals.
Please note that this piece takes 3-4 weeks to produce.