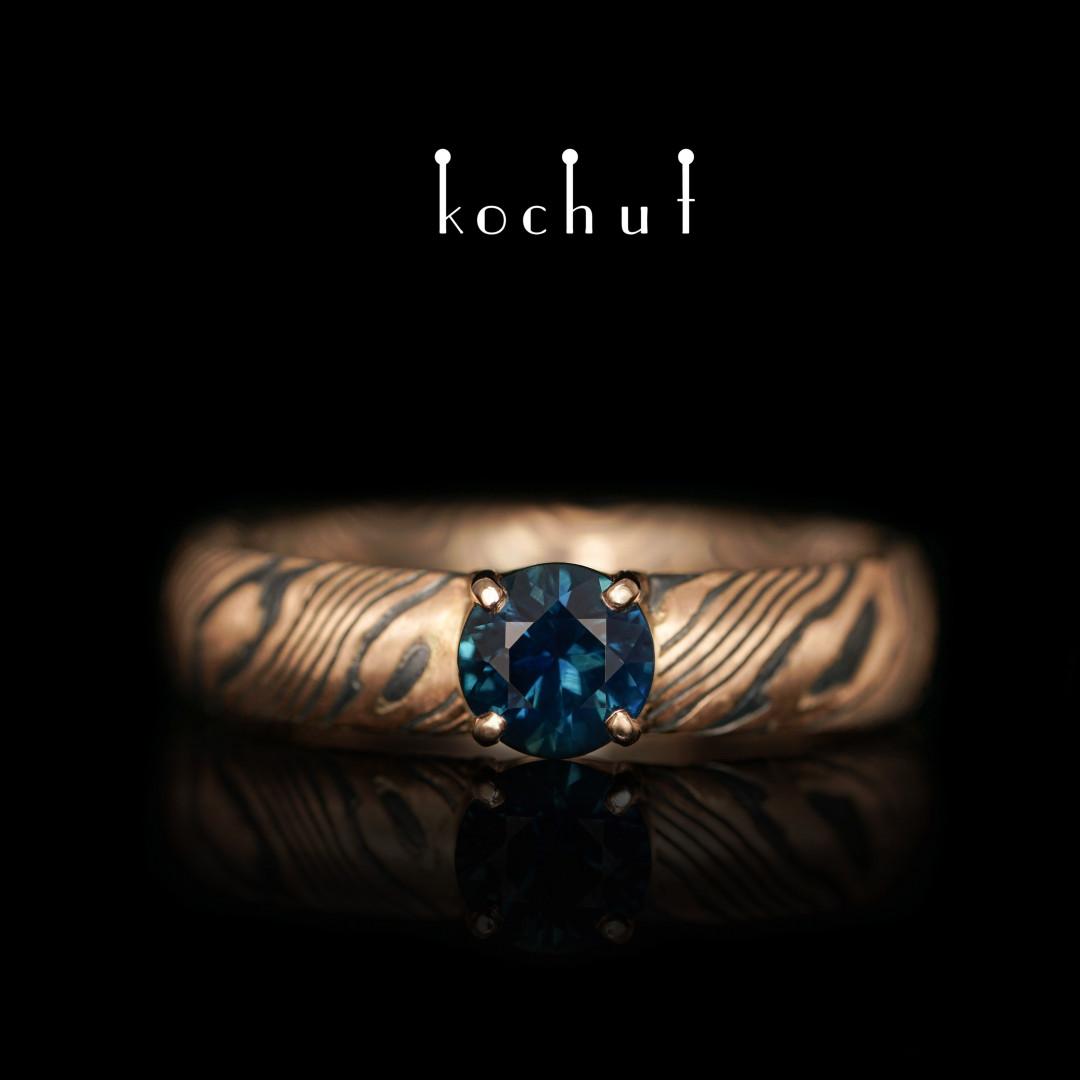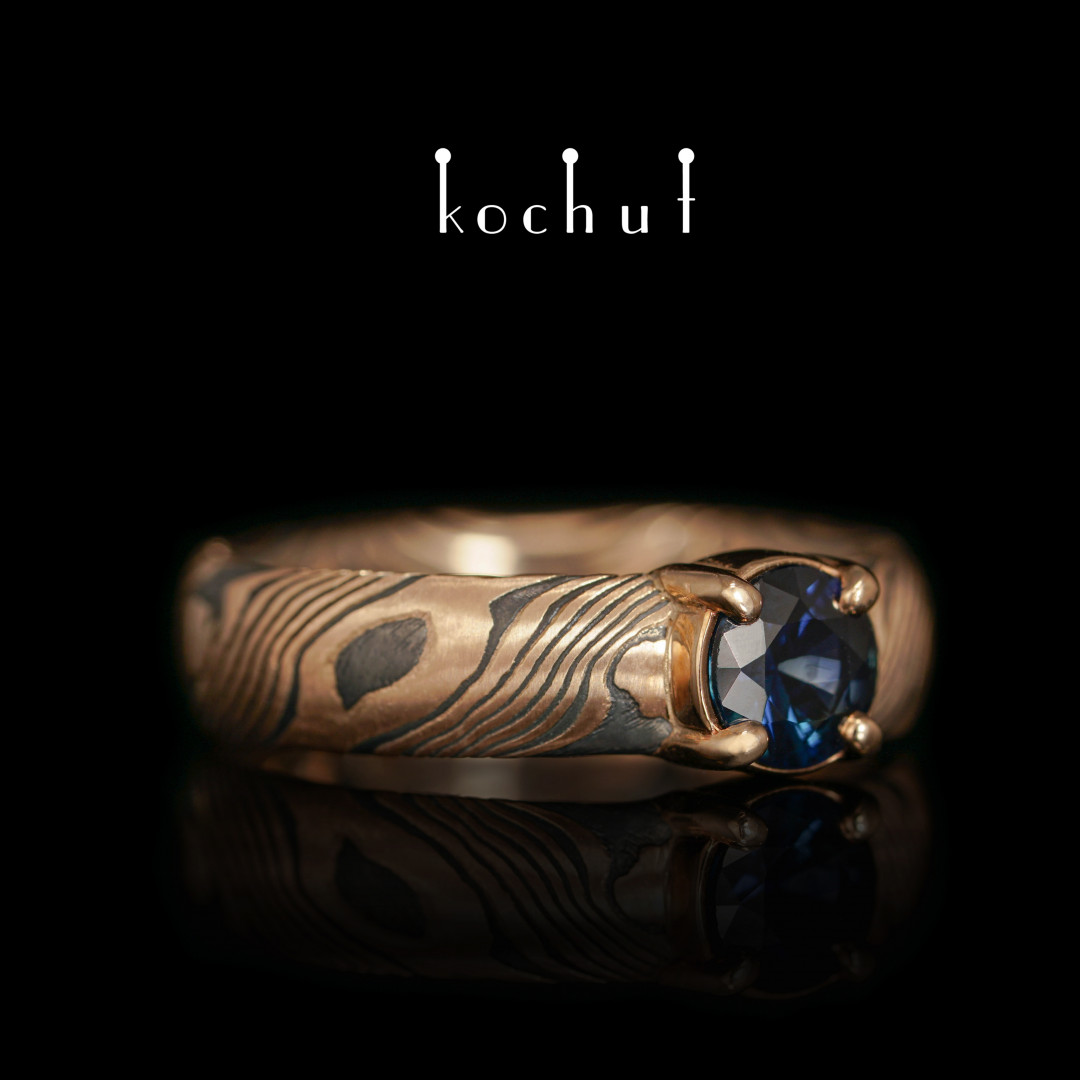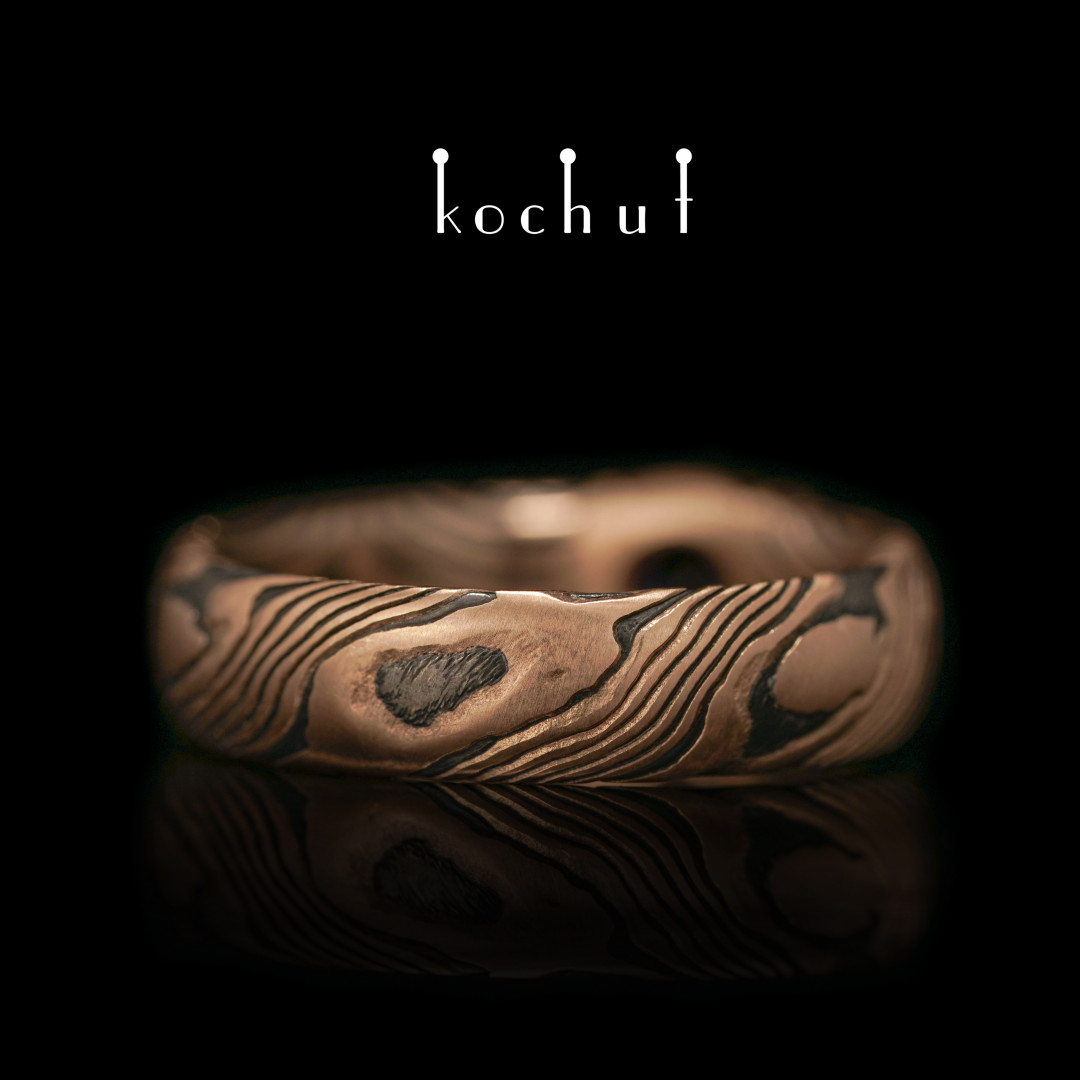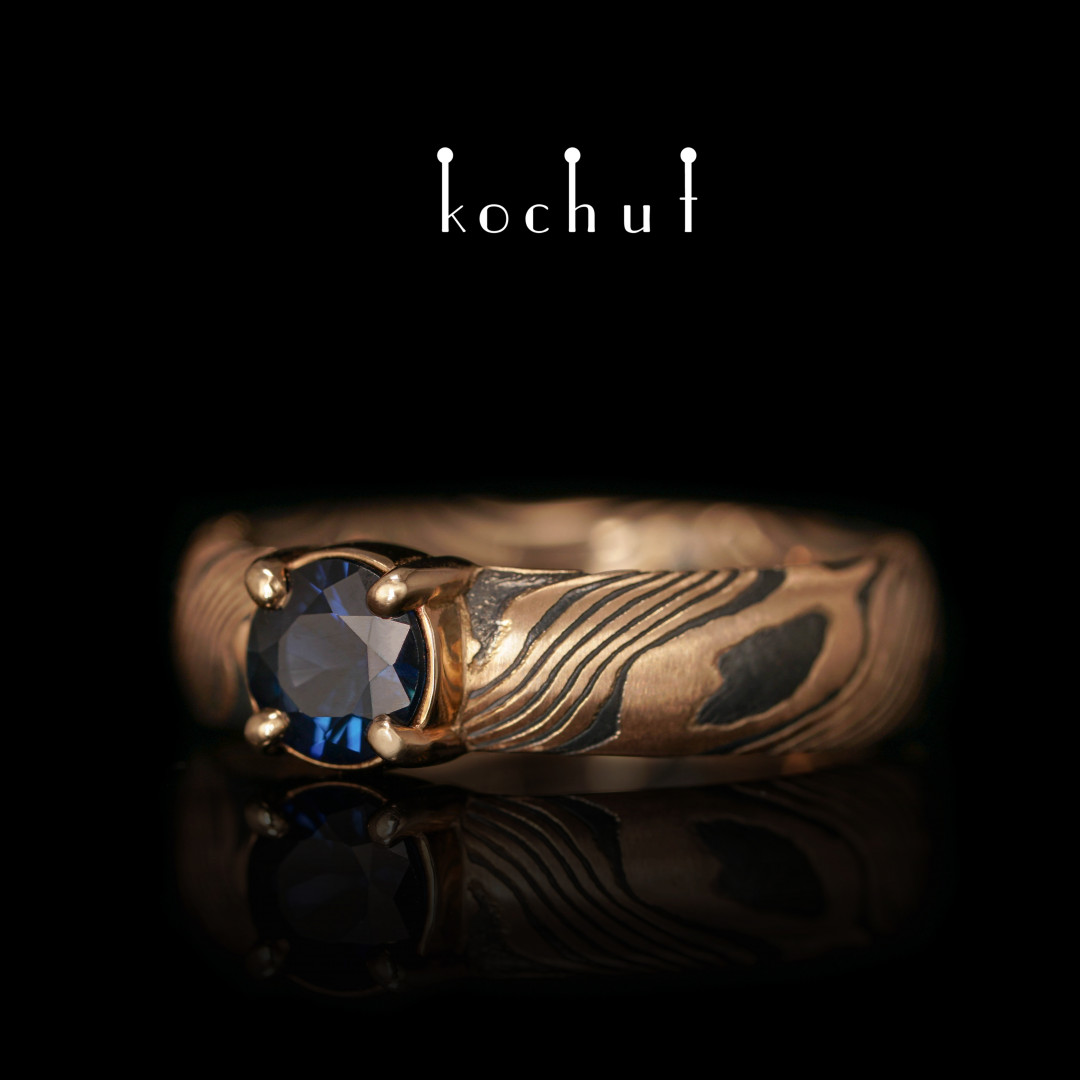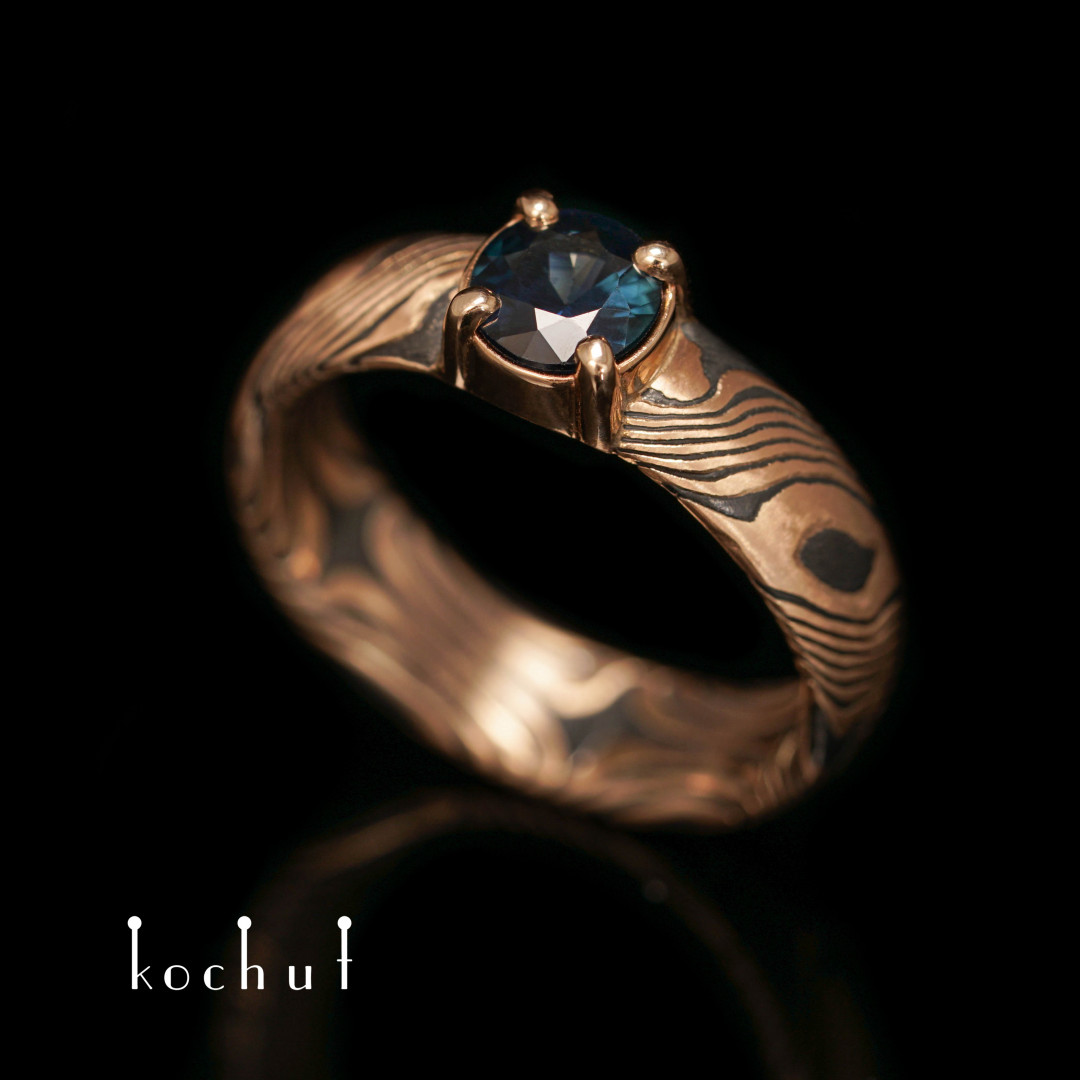 Ring «Scintillation». Red gold, etched silver, sapphire, oxidation
Characteristics
Metal: 14K red gold, sterling silver
Insert: Sapphire 5 mm
Plating: Oxidation
Description
It is easy to come to know a person's personality, as their character, deeds and words will speak for themselves. Coming to know the human soul is a great trial, as the soul is an elusive mystery of a universe that has a known affinity for hiding its secrets behind a vast veil of obscurity.
The great psychoanalyst Sigmund Freud once said 'the only person with whom you have to compare yourself is you in the past. And the only person better you should be, this is who you are now'.
We are unique not only in the colour of our eyes and the prints on our fingertips. We are unique because we are constantly creating an entire world of actions, thoughts and memories. We are microcosms that open our eyes to meet millions of other universes every morning. We are the heroes and heroines of our own stories. We are the only spectators in the theatre of our lives.
Everyone should wake up in the morning with a singular thought: 'The world is beautiful, and I am its unique creation. I am happy and life is remarkable.' It's so simple and wonderful to know that the whole world was created for us to find happiness in it. The 'Mokume Gane' collection carries a philosophy of uniqueness of both the individual and the human soul. Creating mokume jewellery requires a vast amount of knowledge and effort on the part of the jeweller, who must labour for hours in order to make one ring, establishing a perfect tandem of several metals that then forms a unique pattern.
The same can be said about people - all our lives, we seek to create the perfect sculpture of our souls and bodies.
The 'Mokume' ring is yet another inimitable piece of jewellery made of etched silver and red gold. The ring's striped pattern is the result of an alloy formed by these precious metals.
Please note that this piece takes 3-4 weeks to produce.