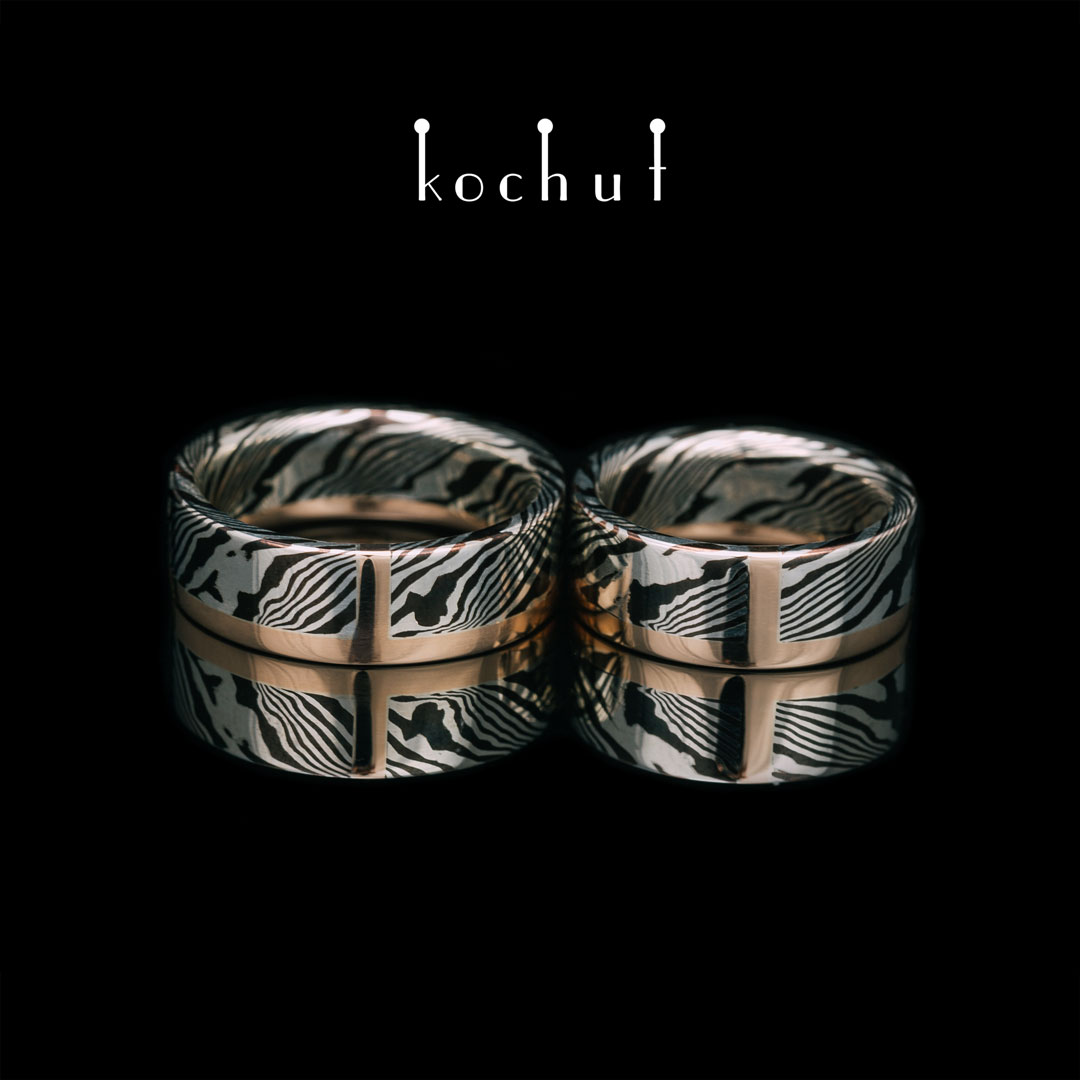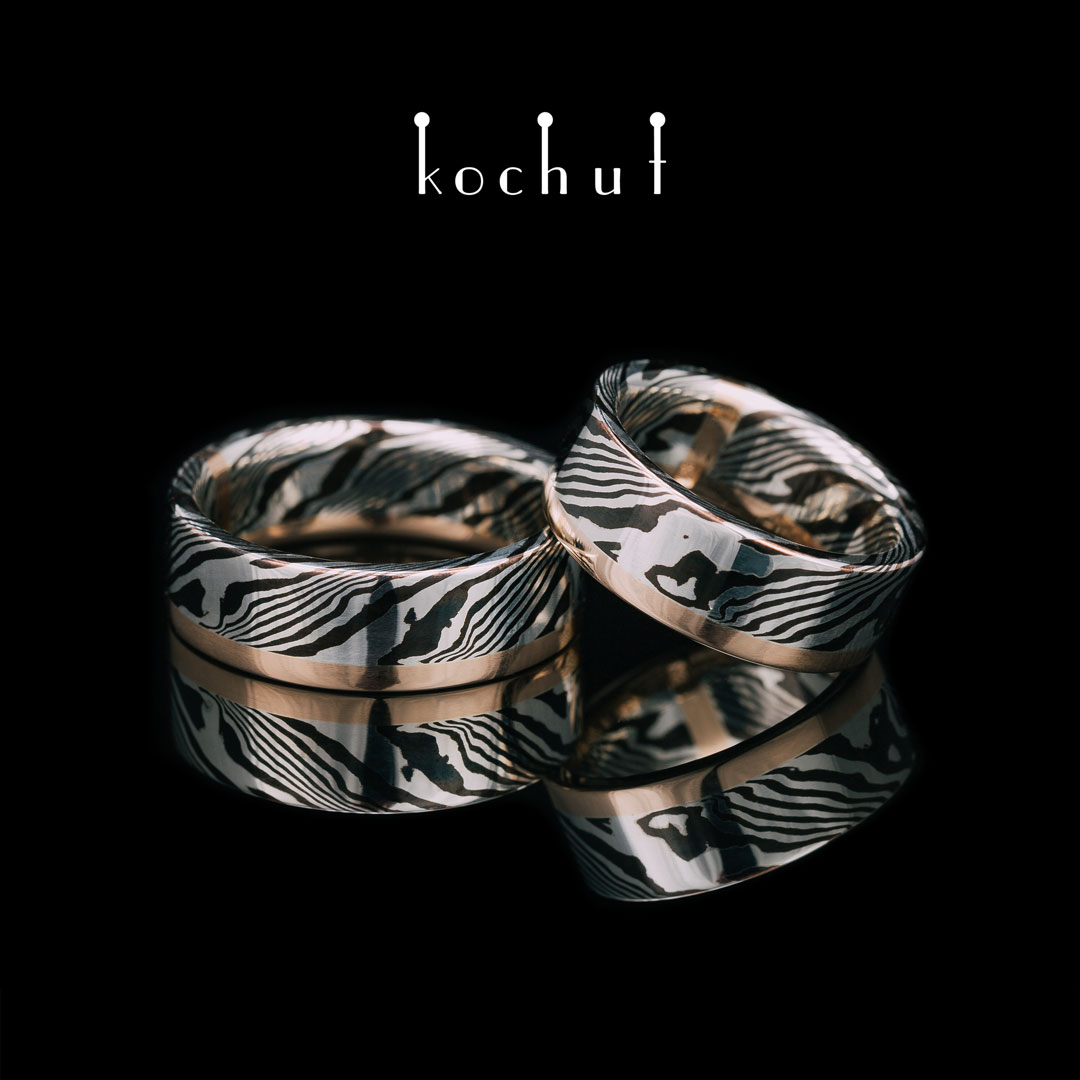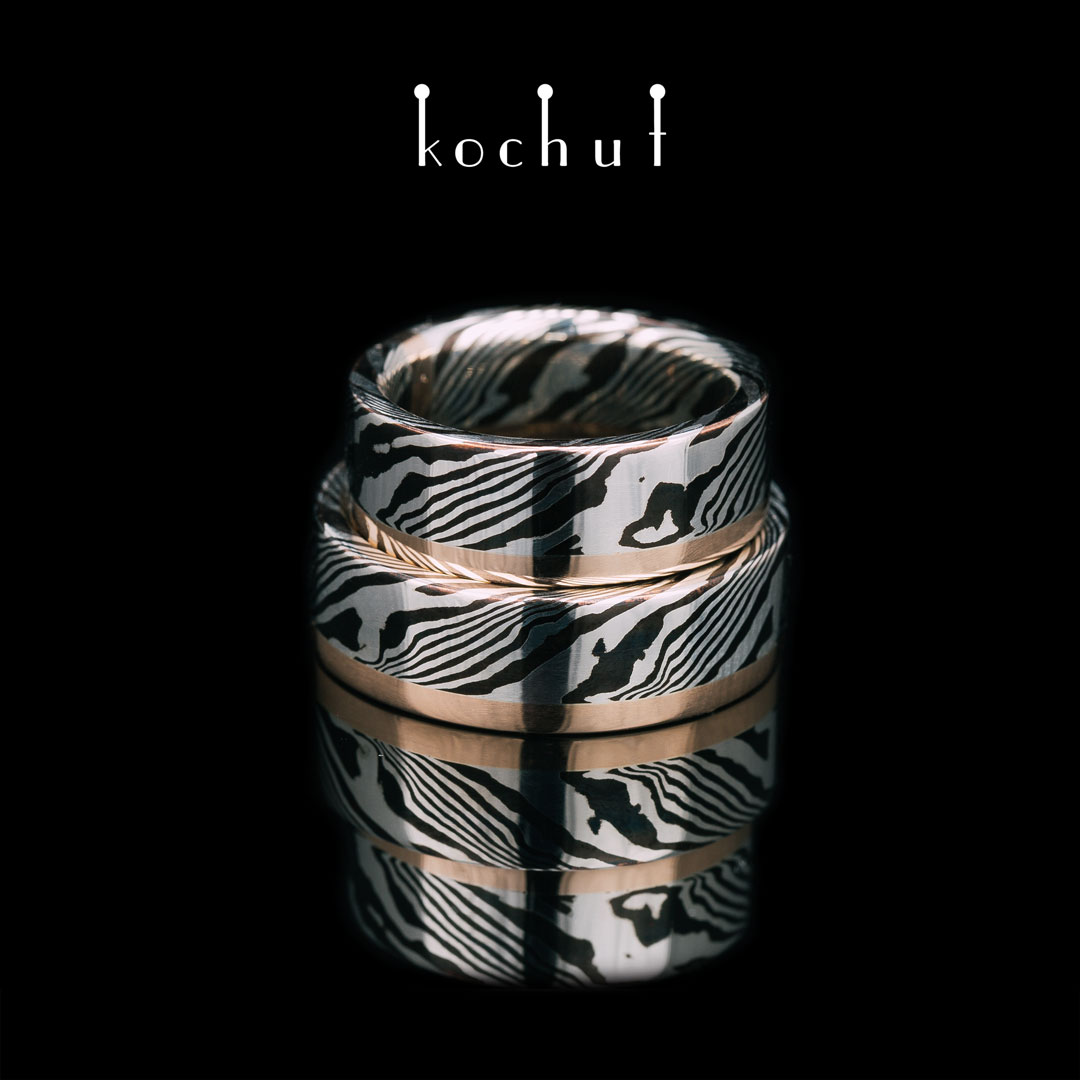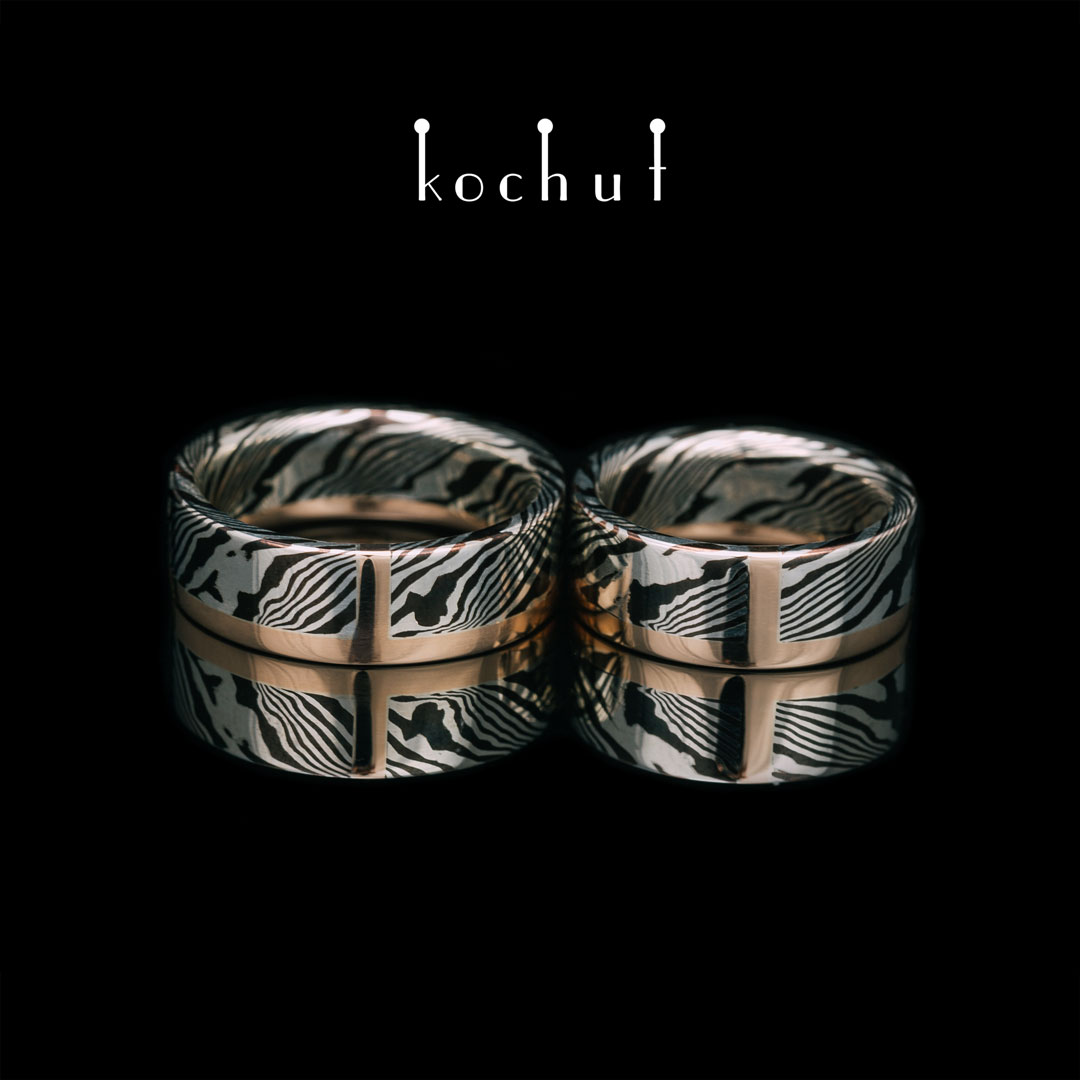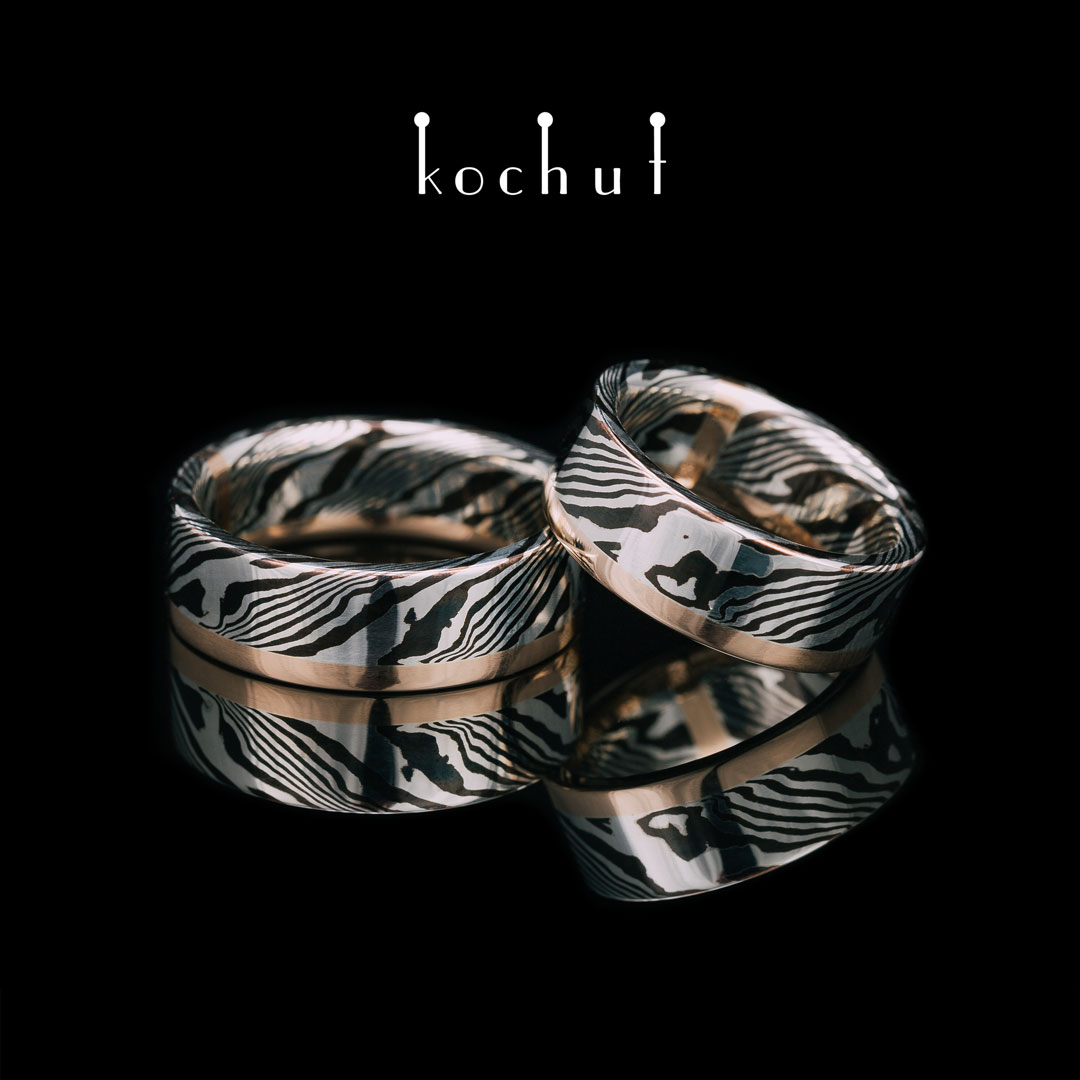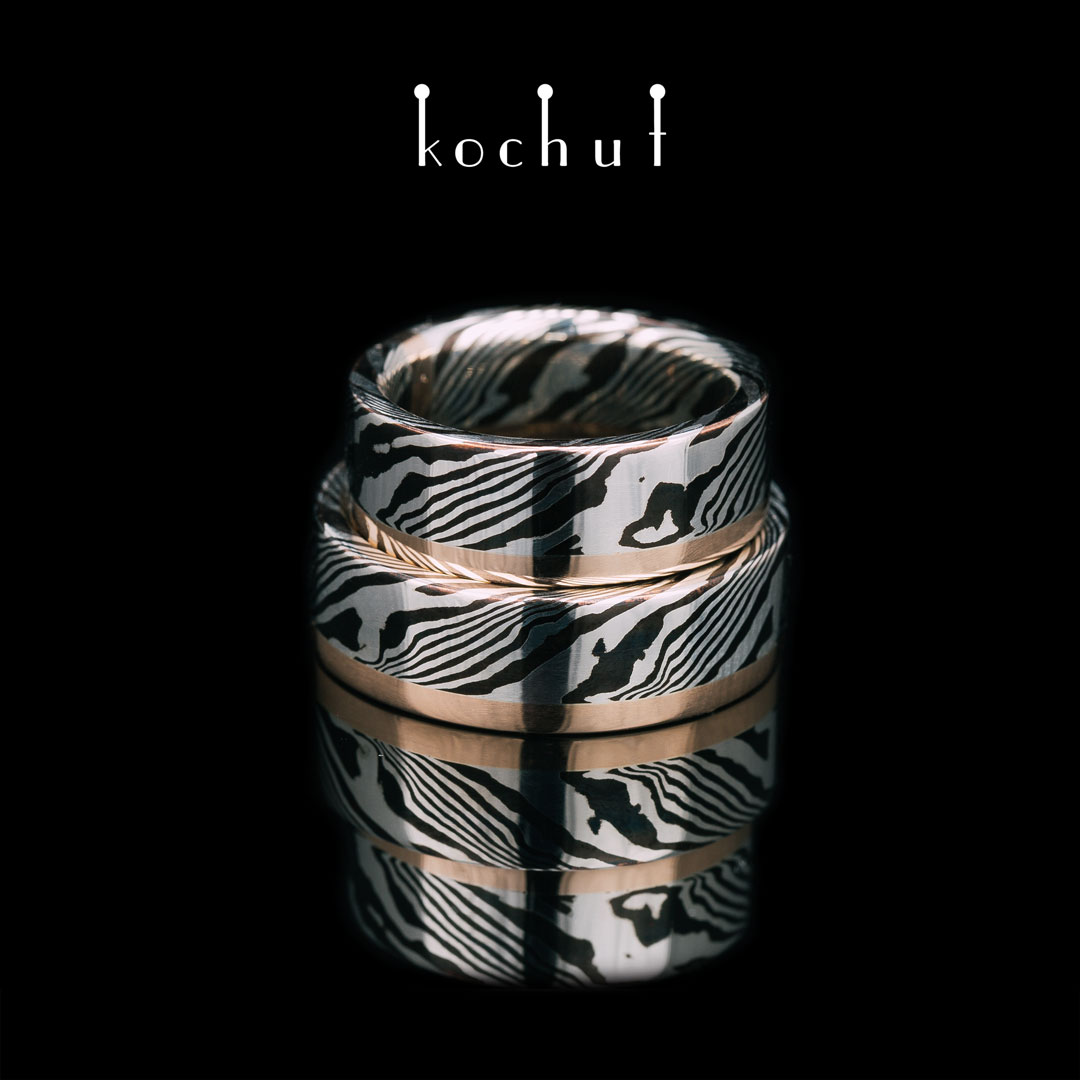 Wedding rings «Mokume. Seishi». Silver, red gold, shakudo
Characteristics
Metal: Sterling silver, 14K red gold and shakudo (10% gold and 90% copper)
Finish: Glossy
Description
Technique mokume gane was invented by the master of swords Denbei Shoami in the XVII century, who lived in Northern Japan.
He was a very skilled craftsman, and one day when making blades he noticed that non-ferrous metals can be joined together and get textures that look like patterned Damascus steel.
The complexity of the discovered technique was that almost incompatible metals were connected to each other in very beautiful and bizarre patterns, which were never repeated. How unique each person, facial features, fingerprints and strings of the soul, and it is impossible to repeat the same picture of mocume.
You have already noticed that all the rings from the mokume-gane collection are different: everything depends on the flight of thought and creativity of the jewellery master. We called the wedding rings «Mokume. Seish », which means" wave resonance «. The name appeared because of the wavy shape of the picture on the ring: it is chaotic, as if in search of a fulcrum and bright, because it attracts attention.
The key moment in mokume is the point of reunion of two realities, when one metal begins to absorb the characteristics of the other and adjust the properties taking into account the specifics of the other. Alloy metals — a difficult process: it requires the full attention of the jeweler. You can not just pick them up and put them on each other, because that's not how beautiful jewellery work will turn out.
Long, intuitive work, doubts, intersections of desires and goals, difficulties, correction of understanding, difficult decisions — this is how the mokume technique is formed, and the true relationship of love and support is created in the same way. Not in the external beauty of metals, because they are beautiful and without alloy. And on a deep inner weave, at the breakpoint of internal barriers. No, do not break yourself for the sake of another person, but show deep diplomacy between the two Universes, which were once disunited, and now have become one.
Thin work, which requires considerable effort and compromise. A test that easily passes from instant admiration to prolonged contemplation. Underlining the valuable and leveling of sharp corners. Understanding and the ability to compromise. Desire to be together and overcome any obstacles with a smile in your heart. This creates a harmonious marriage. And so it creates mokume gana.
Wedding rings «Mokume. Seishs» are created for people who do not have fear of difficulties. Their hearts are filled with feelings, and the mind with clarity. It is not enough to love with feelings, it is necessary to love rationally. And wedding rings with a wavy pattern perfectly complement this concept.
Glossy. The pattern is the same externally, and inside the rings. The price is indicated for a pair of wedding rings. The cost of a pair depends on the final weight.