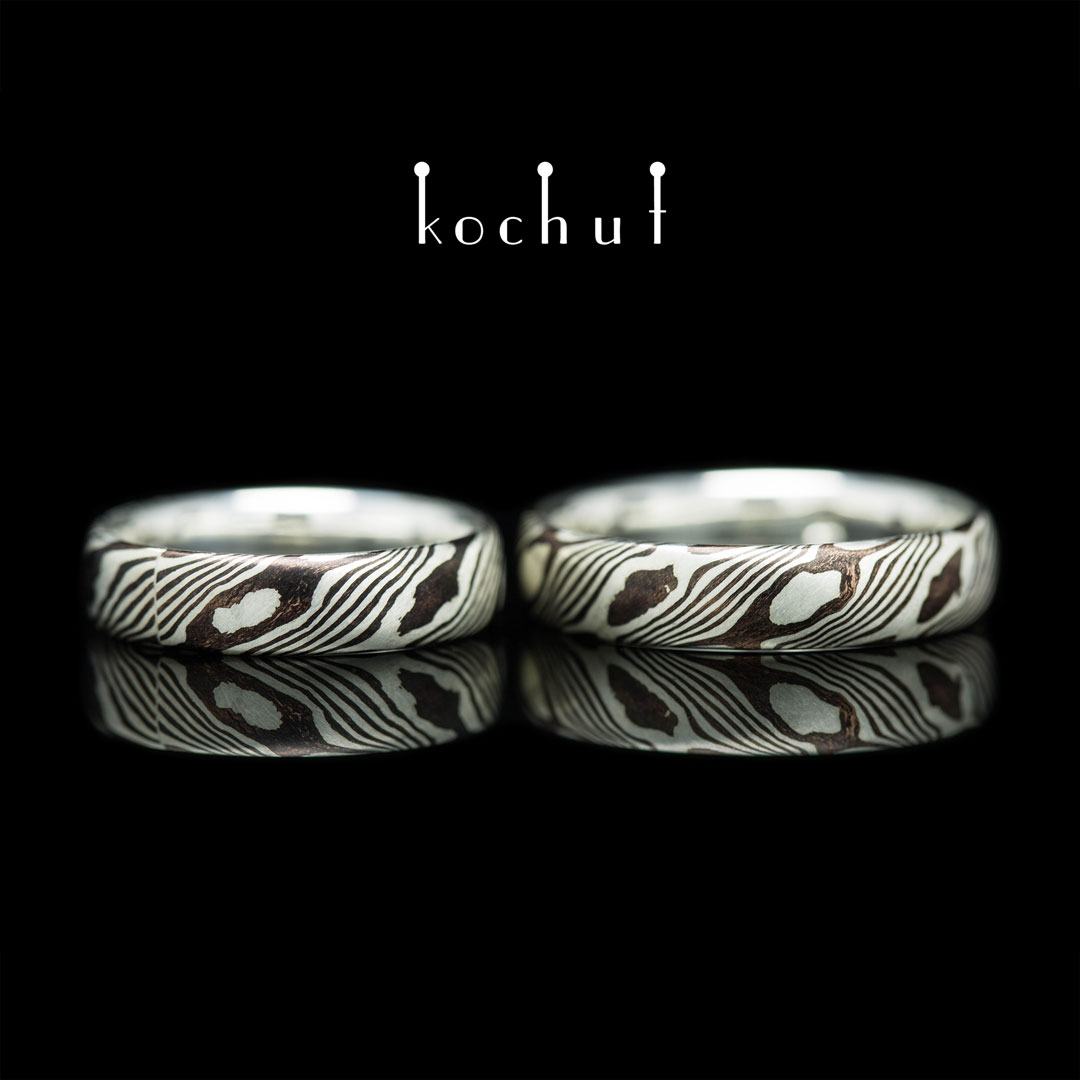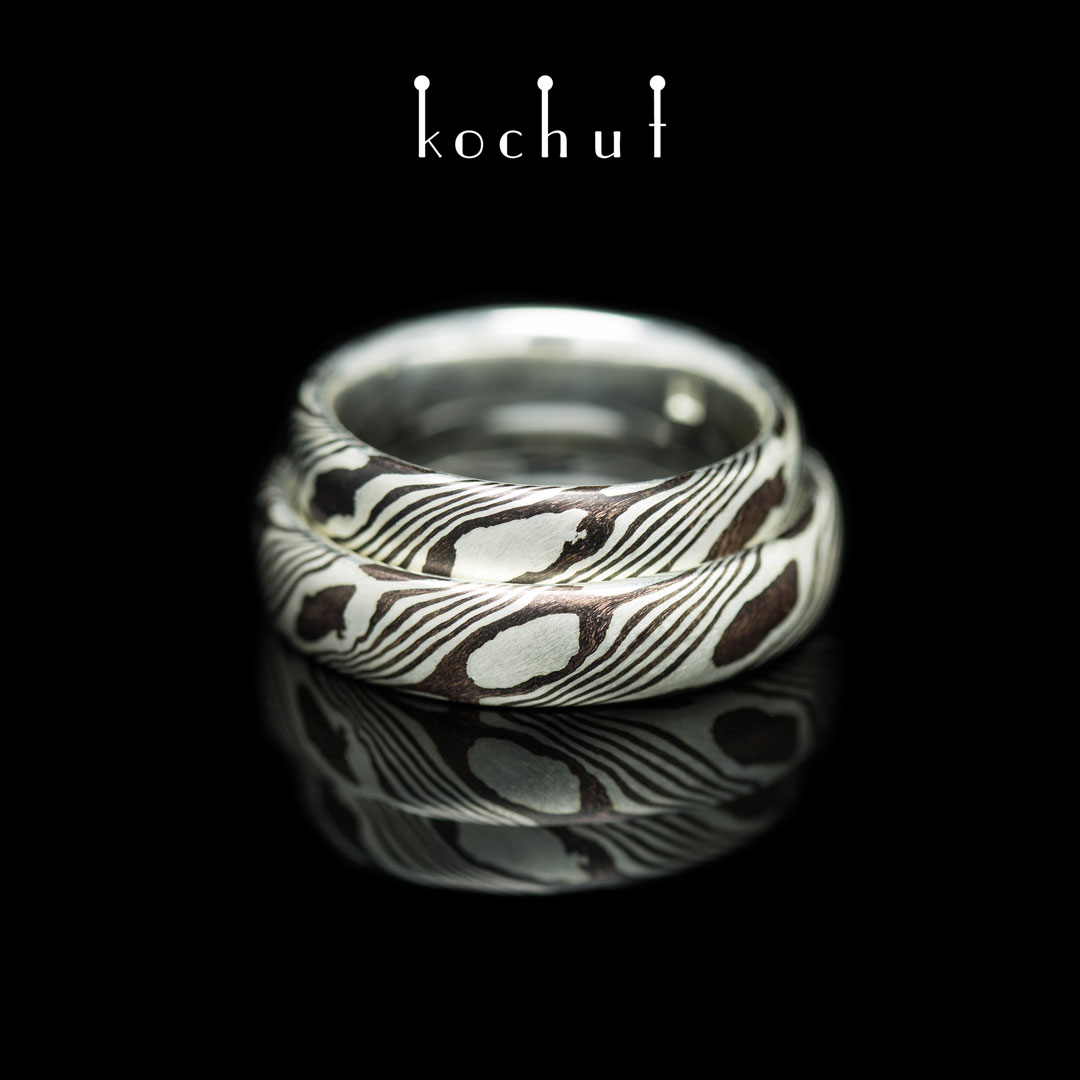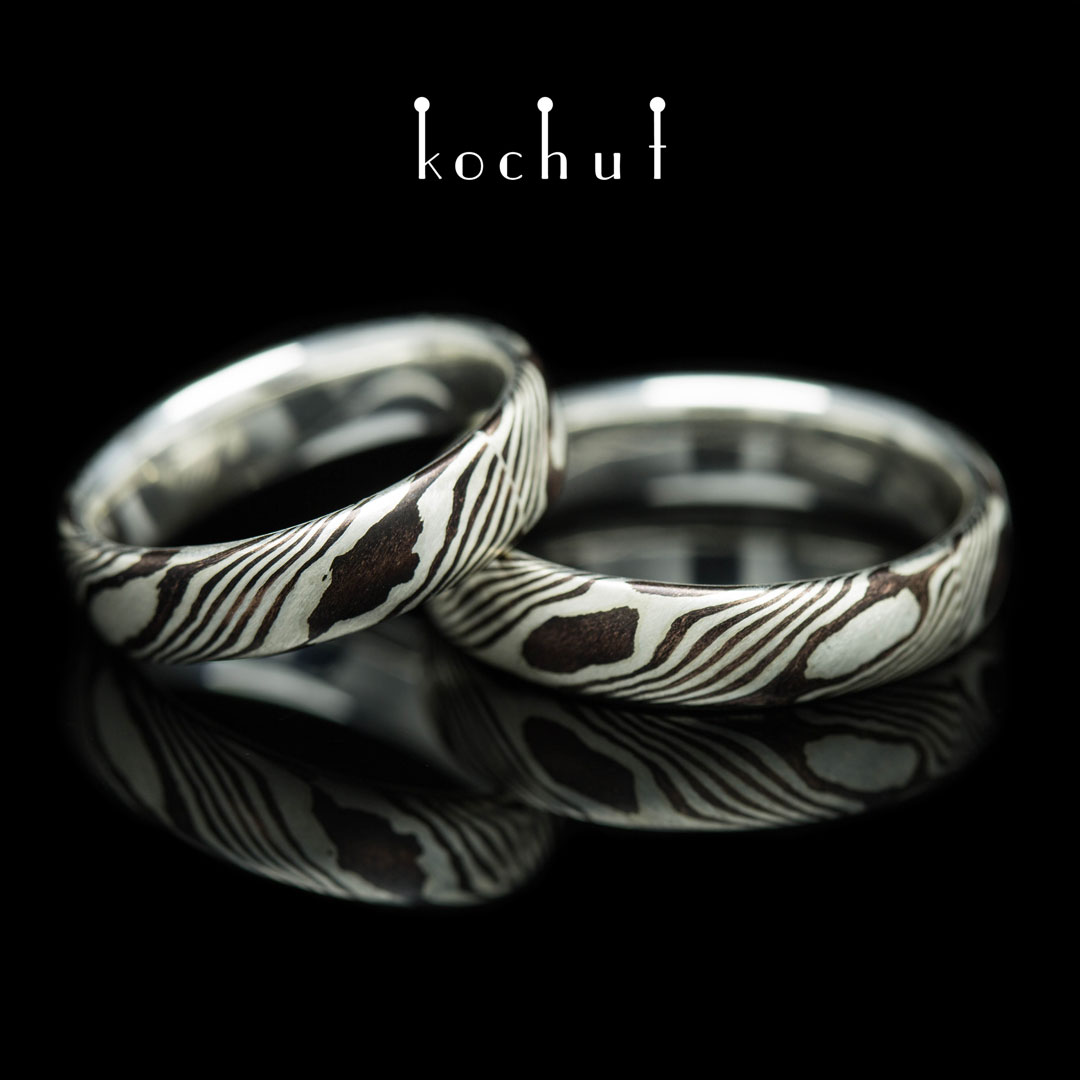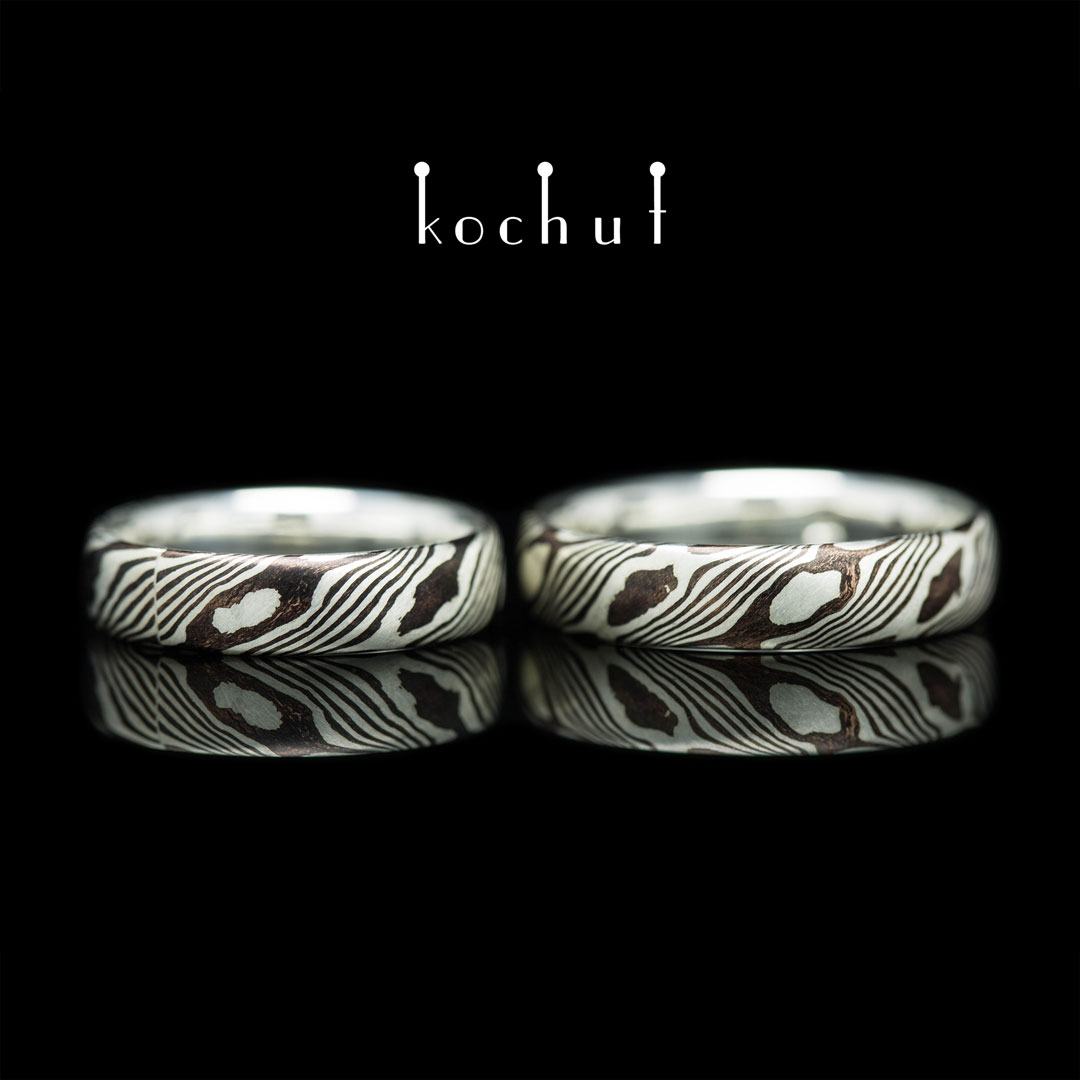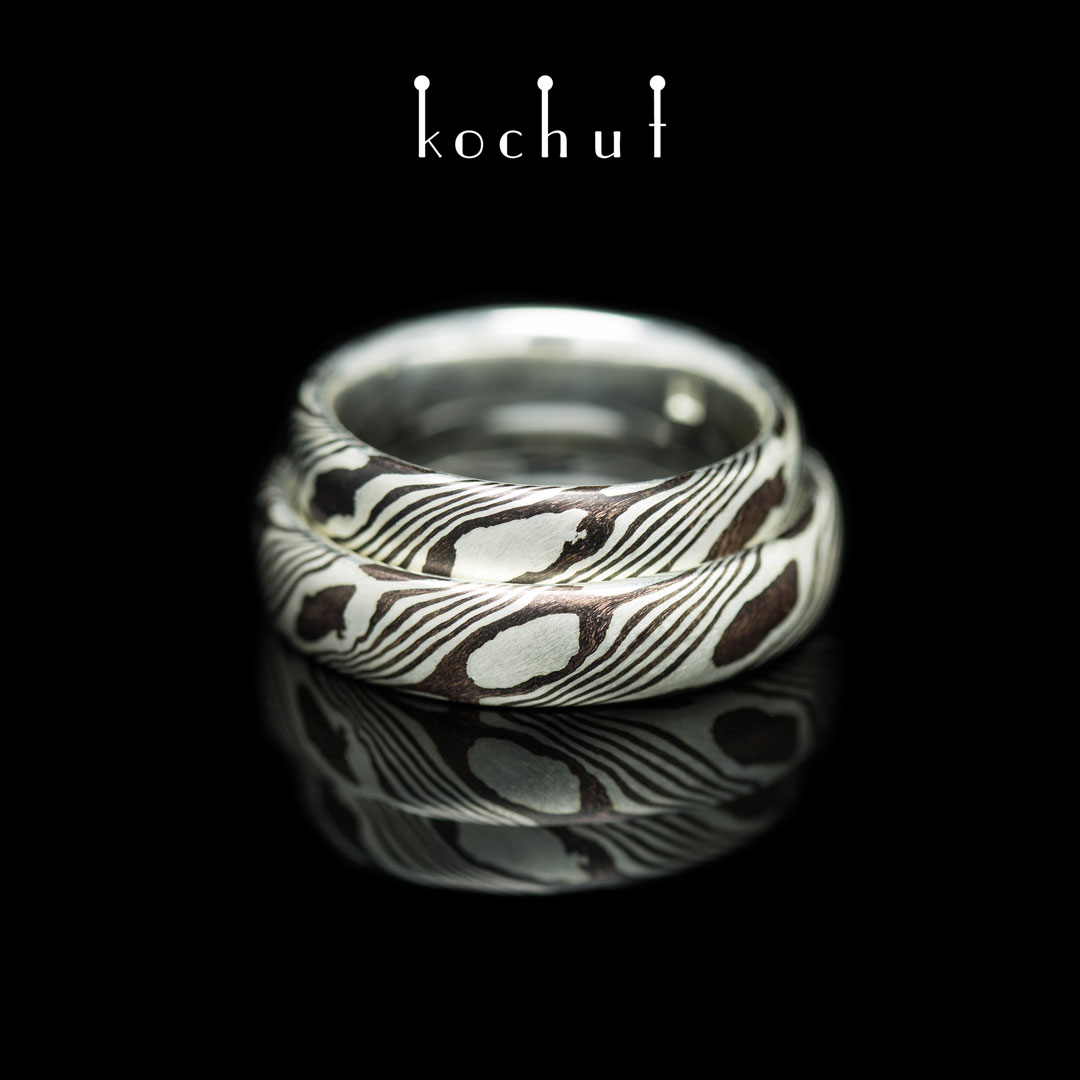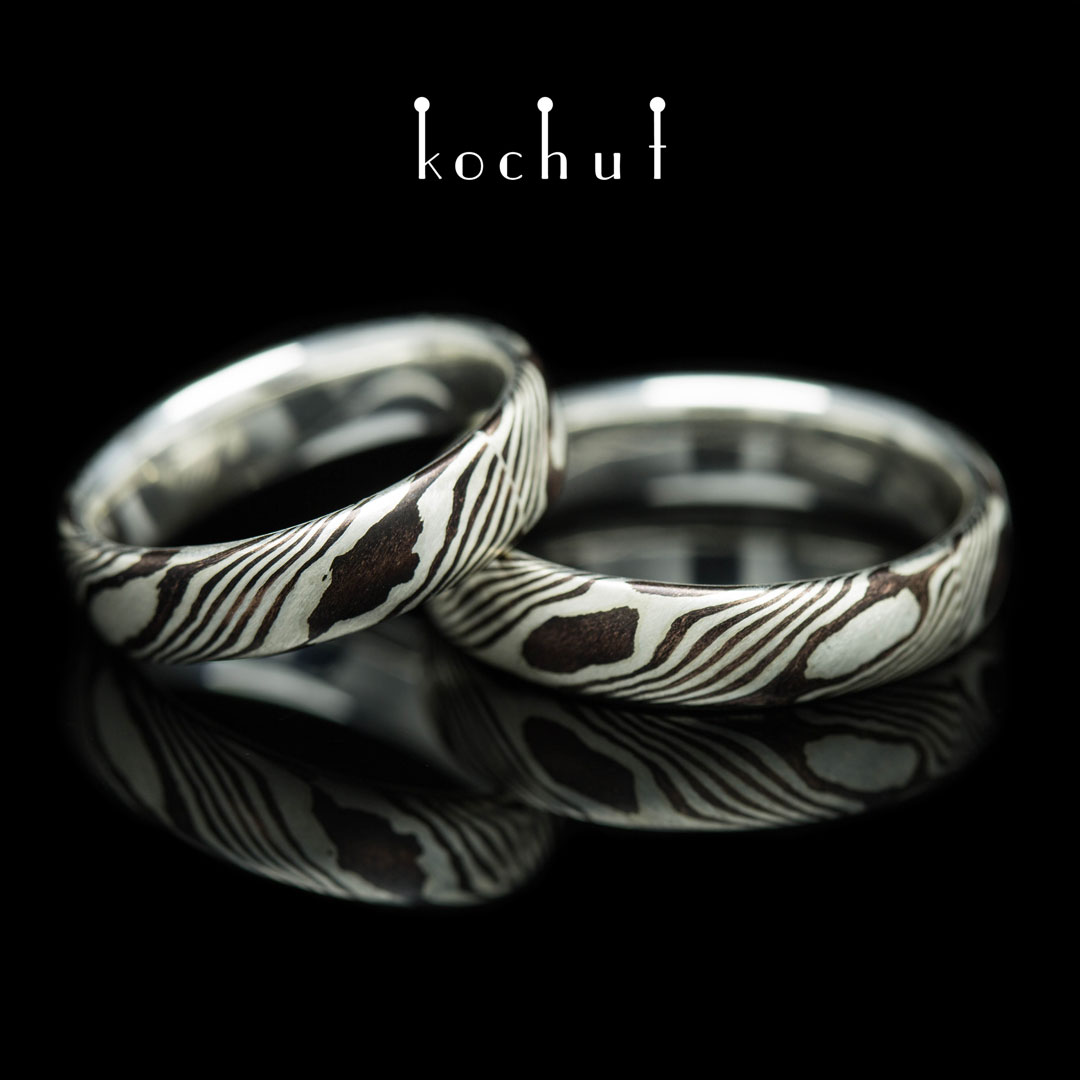 Wedding rings «Mokume.Stripes with silver lining.» Silver, shakudo
Characteristics
Metal: Sterling Silver and Shakudo (10% gold and 90% copper)
Sizes: The width of the base is 5-5.5 mm, the weight of the pair is 12 grams.
Description
To know the person of a person is not difficult: his character, actions, words will be said by everyone. And to know the soul of man is a great test, because the phenomenon of the soul is a tricky mystery of the universe, and she, as you know, likes to hide her secrets behind the great cover of uncertainty.
The greatest psychoanalyst of the past era, Sigmund Freud, said: «The only person with whom you have to compare yourself is you in the past. And the only person better than you should be is who you are now. »
We are unique not only because of the color of the eyes or finger pattern. We are unique, because we create from ourselves a whole world of actions, thoughts and memories. We are the micro-people who open their eyes every morning towards the millions of other universes. We are the heroes of our own films, we are the only spectators in the theater of our life.
Every person should wake up in the morning with the thought: "The world is beautiful, and I its — a unique creation. I am a happy person, and my life is incredible. «It's so simple and wonderful to know that the whole world is created for us to be happy in it.
The collection «Mokume gane» carries the philosophy of the uniqueness of the person and the soul of man. Mokume jewellery is created thanks to a huge amount of knowledge and work of the jeweler. In order to make one ring, he must spend hours working, creating a perfect tandem of several metals, which as a result should become a unique pattern.
So man: all his life he creates a perfect sculpture of his soul and body. And in marriage, two people, bound by friendship and love, create an impeccable union built on care and patience.
Wedding rings «Mokume» are made of silver and shakudo, as another unique specimen of jewellery art. A striped pattern appears on the rings as a result of an alloy of gold and copper, which in Japan is called shakudo.
Price is per pair of wedding rings. The cost of a pair depends on the final weight.

If you want to see the step-by-step process of making the Mokume ring, then you can see it in our blog:
https://jewellery.kochut.org/blog/mokume-gane/